Bamboo Houses
Who said it's not possible to go out on a picnic while you're in a hotel?
The Hotel facility has several Bamboo Houses (called Nipa Houses in the Philippines) for your dining pleasure. The pond ( immediately beside the hotel rooms) are stocked with Philippine "Trout" or Tilapia, and Golden Pla-pla, a local delicacy.
You may enjoy active fishing whenever the game fish is of the right size. The fish pond is stocked continously throughout the year.
Available also are Mango trees throught the area. Mango fruit picking is allowed whenever available.
The Nipa Houses are fully Air Conditioned and are self-contained. .
[Home]
[Swimming Pool]
[Prices]
[About Us]
Fish Pond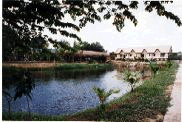 Click for bigger photo
Nipa Houses beside the Fish Pond (Fish has to be a certain size before they can be harvested, so fish pond is seasonal only)